S-4 screw compressor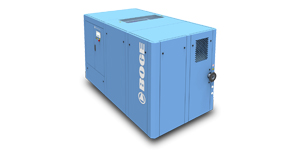 A highlight at our stand was the S-4 "Optimus" screw compressor. This development study ensures a glimpse of the future of the screw compressor – adapted to the challenges of the modern era and with substantial improvements in terms of efficiency values, ease of maintenance, sound pressure and CO2 emissions.
What deserves special attention with the Optimus is the innovative interlocking control, which is based on wireless communication between compressors and other components of the compressed air preparation.