School Students
Want to sample different technical and commercial professions while you're still at school? Interested in an apprenticeship? We have a range of opportunities for school students. Details of currently available positions can be found in our job portal.
Apprenticeships at BOGE
BOGE offers a range of technical and commercial career opportunities and creates the ideal conditions for a successful first venture into the world of work. Our training supervisors offer individual coaching and targeted guidance in preparing for exams.
Dual (work-study) programmes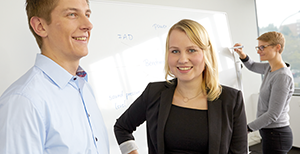 Want to combine practice and theory? A dual study programme is the ideal choice for you: It links on-the-job experience at BOGE with a degree course at a university of applied sciences or an administration and business academy.
By choosing a dual study programme, you benefit from targeted preparation for the tasks and projects that await you at BOGE. You'll also have the advantage of earning your own money for the entire duration of your study.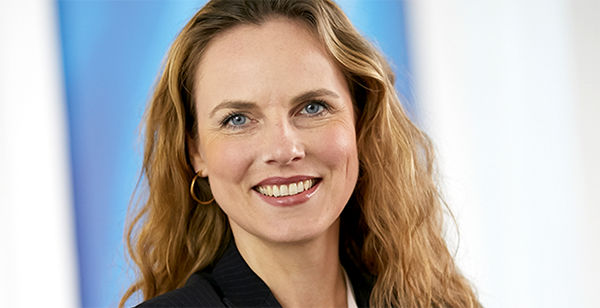 Ricarda Fleer, commercial director With engagement and good ideas you can ​carve out a ​niche for yourself at BOGE.
Why BOGE?
Individual coaching
Cooperation with reputable partners
Opportunities for international assignments
Interdisciplinary project work
Modern work environment
Skilled training supervisors
Exam preparation
Mentor system
Work experience placements for school students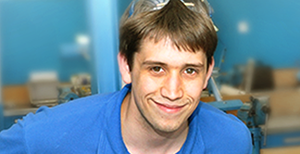 Experience the world of work and try out different professions! A pupil work experience placement gives you insights into the workings of the company and the different activities we undertake.
Whether as a mechatronic engineer or electronic technician in the technical area of the company or an IT officer or industrial/ business administrator in our commercial department, BOGE lets you discover the ideal job for you.
We offer the following options:
Mandatory pupil work experience placements
Voluntary work experience placements in the school holidays
Career discovery days
Girls' Day / Boys' Day
In addition, we offer the following careers-related guidance and information:
Company tours for school classes
Presence at job fairs
Educational activity sessions/ Technical projects at schools
Apprentice FAQs
Where in Germany can I complete a BOGE apprenticeship?
BOGE offers apprenticeships at our main production facility in Bielefeld (Jöllenbeck) and in Großenhain (Sachsen).
At which institutions does the vocational teaching take place?
BOGE Bielefeld:
All technical apprenticeship roles: Carl Severing Berufskolleg
IT Officer (m/w): b.i.b. International College Paderborn
Industrial Administrator (m/w): Rudolf-Rempel Berufskolleg
Business Adminstration (m/w): Rudolf Rempel Berufskolleg; Verwaltungs- und Wirtschaftsakademie OWL in Bielefeld
Practice-integrated study: Bielefeld University of Applied Sciences at Gütersloh or the Ostwestfalen-Lippe University of Applied Sciences at Lemgo
BOGE Großenhain:
Berufliches Schulzentrum für Technik und Wirtschaft (bsz.tw) in Riesa
Can I reduce the duration of my apprenticeship?
It is usually possible to reduce the duration of your apprenticeship. However, this depends on your performance. A reduction in duration must be recommended by the company and the relevant vocational institution and approved by the Chamber of Commerce and Industry.
What happens at the end of the apprenticeship?
Shortly before the end of your apprenticeship, we will sit down with you to discuss potential future opportunities at BOGE.
By when do I have to submit my application for an apprenticeship?
The application process starts in the year before the apprenticeship is due to begin. Ideally, you should apply after receiving your academic progress report in the summer.
What documents should I include with my application?
To award you a training place, we require a complete set of application documents. This includes:
Personalised cover letter
CV in tabular form
Copies of your last two academic progress reports
Evidence of previous work experience placements, etc.
We will contact you after receiving and reviewing your documents. You don't need to take any further action!
Where can I send my application documents?