Students
Whether you're still studying or have already completed your course. At BOGE, we offer the right conditions for a successful start in the world of work.
Work experience
Gain practical experience during your studies! A work experience placement at BOGE lets you get to grips with different jobs, decide where your interests and capabilities lie and experience BOGE as an employee. We invite you warmly to take advantage of this opportunity!
We offer the following work experience options:
Mandatory work experience placements
Voluntary work experience placements
In addition, we offer the following careers-related guidance and information:
Company tours with students
Info days at universities
Presence at job fairs
Student trainee positions
Want to combine work and study in a meaningful way? Apply to us as a student trainee and begin obtaining practical experience while you're still studying. From early on, you'll be assigned responsibility for challenging tasks in different departments. Did you know that our Managing Director Thorsten Meier also began with us as a student trainee? Read more BOGE success stories here.
Writing your thesis at BOGE
Want your degree to have a practical focus? Whether you're working on a Bachelor's, Master's or diploma thesis, we'll oversee the process and offer you the support you need. Choose between different areas of the company depending on your field of study and interests: technical and commercial departments, Sales and Communication, the EDP Department or the Department of Engineering and Design. By completing your thesis at BOGE, you'll lay the foundations for the future advancement of your career.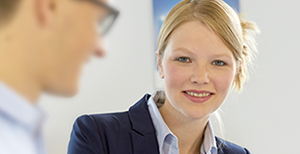 Sinah Wietrychowski, Specialist for Web Applications "I didn't imagine work experience at BOGE would be so exciting".