Our Compressors
Our compressors combine innovative solutions with high-quality components. We offer a demand-oriented range of high-quality compressors to suit your area of use and individual requirements. What all products share is their status as sophisticated, globally in-demand, high-performance machines, all of which are subject to the strictest of quality controls before despatch. Our precision-manufactured compressors guarantee an efficient, reliable and – where required – 100% oil-free compressed air supply, all in accordance with your specific requirements.

High Speed Turbo Compressor – a new era for compressed air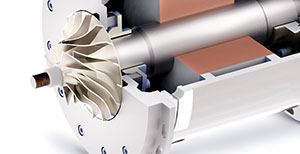 The BOGE HST compressor is a quantum leap in compressed air technology.
Screw compressors
Our screw compressors are the optimal solution for continuous and energy-saving compressed air generation.
Oil injection cooled screw compressors
When we consider the entire lifecycle of a screw compressor, it's not the acquisition and service costs that make up the majority of the financial outlay, but the energy costs. Screw compressors operate particularly efficiently – and are therefore the most economically sound choice – in situations where a continuous compressed air supply or high rates of free air delivery are required. This means that both oil injection-cooled and oil-free screw compressors are suitable to be used as base-load machines in networked compressor systems. Pressures used generally lie at 7.5 or 8 as well as at 10 and 13 bar.
Pure Air for You and the Environment
The highly efficient functioning of BOGE screw compressors means you benefit from low energy costs over the entire duration of a compressor's life span. We also offer the option for a number of our compressors to be purchased with efficient, speed-regulated fan motors, saving you many extra thousands of euros per year. At the same time, annual CO² emissions are reduced by several tons. Our BOGE Duotherm heat recovery system can be used to further increase the overall efficiency of your machine: Up to 94 per cent of the energy converted to heat by compressed air production can be recovered and used for other purposes including process support or heating.
Piston compressors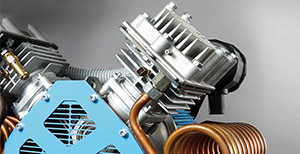 Our piston compressors are the ideal choice for fluctuating compressed air consumption and peaks in demand
Oil lubricated piston compressors
In the event that your compressed air supply is not geared towards constant peak load operation, our piston compressors are the ideal choice. Their design makes them capable of offsetting fluctuating compressed air consumption with peaks and frequent changes in load. Pressures used generally lie at 8 bar, 10 bar, 15 bar, 30 bar, 35 bar and 40 bar.
Reliable, Effective Piston Compressors – For More Than 80 Years
Our piston compressors have proven themselves in practice over multiple decades of use: Customers from industry and trade have been relying on the BOGE name for a dependable, efficient compressed air supply for more than 80 years. The availability of a wide variety of components means that piston compressors can now be adapted to meet any and every user-specific need.
Choose between:
Oil-free or oil-lubricated compressor systems
Compressors with or without compressed air container and/or refrigerant dryers
Our exclusive use of high-grade materials results in a long service life and low maintenance expenditure.
Even at a 100 per cent duty cycle and with high final pressures, our piston compressors operate at the highest levels of reliability.
Scroll compressors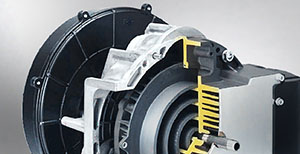 Compressed air that is absolutely oil-free is a must when it comes to sensitive work environments.
This is what prompted BOGE to develop the EO series, as previously the low to mid-range oil-free performance segment (up to 22 kW) did not include compressors that were quiet and compact enough to be set up next to the workplace. Its scroll compressors are not only extremely quiet, but also have very low vibration levels.
The design principle
The heart of BOGE EO compressors (Eccentric, Oil free) consists of one or more scroll compressors. Each operates with two spirals, with one being fixed while the other rotates eccentrically. Although the two spirals intermesh, they do not touch each other. The air taken in is continuously forced into an increasingly confined space, so producing pulsation-free compressed air which is absolutely free of oil. Efficiency is further improved with a two-stage aftercooler. Up to four compressors can be installed in one housing if high free air delivery rates are required.
Whisper quiet, and perfect for sensitive work environments
Sensitive work environments such as dental surgeries and hospitals have relied on 100% oil-free compressed air from BOGE for years. And installation has now become even easier with the compact models from the EO series. BOGE EO compressors banish the residual risk of oil accidentally getting into the compressed air pipe.
The closer a compressor moves to the workplace, the more important the issue of the sound pressure level becomes. The scroll compressor impresses here with its whisper-quiet operation and ultra-low vibration levels. Perfect for example in laboratories or hospitals.