Corporate Social Responsibility
We at BOGE see ourselves as a socially responsible company – in an economical, ecological, social and local sense. Take a look at the projects and initiatives that we and our employees support.
We are aware of our responsibility
The harmonisation and reconciliation of economical, ecological and social factors – in our eyes, a natural prerequisite for achieving our aims – is today referred to under the term "Corporate Social Responsibility" (CSR). It's with the concept of CSR in mind that we, as a success-oriented, rich-in-tradition company, have retained our decades-long status as an integral part of the OstWestfalenLippe region. We support the notion of CSR and the region's role as an industrial location through three central principles: thinking with others, acting with others and shaping the future – in collaboration with others.
OWL Study Fund Foundation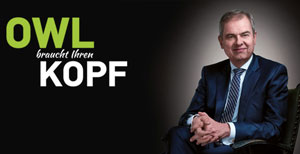 The foundation aims to provide students with material and non-material support to help everyone who has an aptitude and is suitably motivated to take up a course of study.
The intention is to provide students with support for their personal and professional development and, in particular, recruit gifted students for OWL. BOGE actively promotes and assumes financial responsibility for support of two students. In the 10 years that the study fund has been in existence it has created 100 new grants. BOGE has also been actively represented during this campaign by our Managing Director Wolf D. Meier-Scheuven.
Bethel and Lübbecker Werkstätten GmbH
BOGE supports the disabled workshops Bethel pro Werk v. Bodelschwinghsche Stiftungen und Lübbecker Werkstätten GmbH by ordering a range of items from them every year.
The workshops for disabled people provide an environment where people with physical disabilities or mental health problems can work. They do jobs matched to their abilities, preferences and interests.
BINGO – students get a taste for compressed air
The BOGE-founded "Berufsoffensive für INGenieur/innen in OstWestfalen-Lippe" (or BINGO for short) is aimed at encouraging young people to take up careers in engineering – an initiative that also counts among the aims of OWL Maschinenbau.
Once a year, before the summer holidays, BOGE supports BINGO's work by giving female students a chance to visit its production halls. As part of an annual film competition, our teams of female students also collaborate with companies from the region to produce portrait films about MINT professions.
In 2014, this film won BOGE the audience award at the BINGO Film Competition.
TuS 97 Job Initiative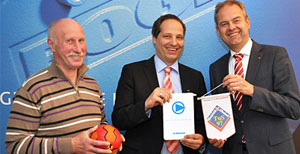 BOGE has supported the TuS 97 Bielefeld-Jöllenbeck job initiative since 2013 and is committed to development of future sportsmen and -women.
Qualified members of the sports club benefit from BOGE's comprehensive, diverse education and training services, such as internships, training courses, sandwich courses and degree dissertations. The aim of this association of sport and education in the region is to build young talent's long-term loyalty to the region and the sports club and to give them an easier start to working life.
Realschule Enger – building bridges between school and the world of work
BOGE's target-oriented collaboration with Realschule Enger, a secondary school in the home region of our headquarters in Germany, began all the way back in 1999 – one of the first partnerships of its kind in North Rhine-Westphalia.
Through a lively programme aimed at encouraging the exchange of experiences with teachers and pupils, we have been successful in building bridges between school and the world of work. Under the play-on-words slogan "How real is school?", we offer students an intensive and practice-based environment in which to get to grips with mechanical engineering jobs. In so doing, we afford girls, in particular, a valuable insight into the engineering world. Artistic displays on the subject of our partnership are featured regularly in our foyer and in that of the school.
NETZWERK companies integrate refugees
With effect from March 2016 we became part of the biggest network in Germany for integrating refugees into the labour market. The NETZWERK Unternehmen integrieren Flüchtlinge (NETZWERK companies integrate refugees) is a German Chamber of Industry and Commerce initiative supported by the German Federal Ministry of Economics.
BobbyCar Solarcup – a community race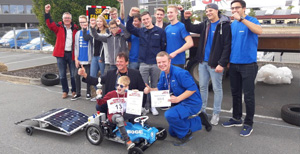 BOGE also collaborates with Realschule Enger on the annual BobbyCar Solarcup organised by alternative energy company Netzwerk Energie Impuls OWL:
Every year, we join together to enter a shared vehicle in the "Solarracer team". In preparation, pupils from the school collaborate with our trainees to develop a "solar bolide", using a bobby car as their base.