Heat Recovery
A large amount of the energy taken in by a compressor is converted to heat and diverted away via a cooling medium (air, water or cooling agent/oil). BOGE's efficient solutions mean that this heat is not simply lost but can be put to use in another way, such as for heating domestic or circuit water, or for process support. Our heat recovery systems are always tailored to the individual requirements of our customers, enabling savings to be made on both energy and cash.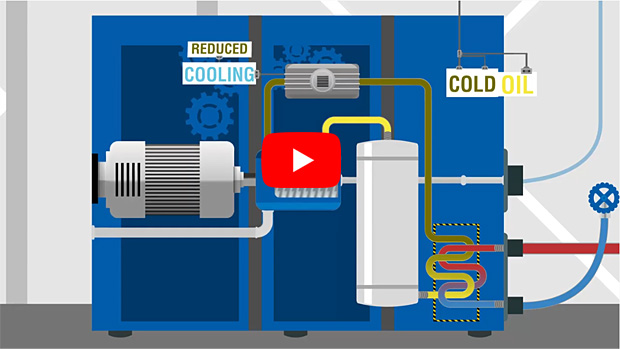 BOGE Duotherm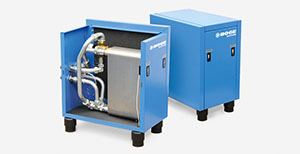 Our external heat recovery system lets customers get maximum benefit from their compressors – more than 70 per cent of energy supplied is recovered and made available for other uses. Both new and older machines can easily be equipped with BOGE Duotherm, significantly improving their levels of energy efficiency.
Save Energy with a Variety of Compressors
BOGE Duotherm is available in five different models and can be purchased for oil-injected compressors requiring between 7.5 and 110 kW of electrical power. It can also be fitted (or retrofitted) to compressors from other manufacturers.
Easy Savings with the Minimum of Space
BOGE Duotherm does not require an additional supply of energy and can easily be connected to the oil circuit of your compressor. Its compact design means that external heat recovery can be carried out in a minimal amount of space: an area of 700 x 700 x 380 mm will suffice. An optional oil connection vessel (700 x 900 mm) can also be purchased.
Heat That Pays
In addition to optimising energy efficiency levels, an external heat recovery system also represents a major potential for savings: Up to 10,000 Euros can be saved over an annual 960 operating hours. For many customers, the investment in an external heat recovery system pays for itself in a very short time.